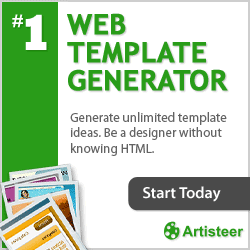 Web Design Generator – Artisteer
was my secret for a little while. I could create high quality website design for most clients needs very easily without the use of a graphic designer and theme coder. I kept my prices very low with it. As popularity has gained and Artisteer has worked out the bugs,  I can promote this web design tool with full confidence.
I've noticed many Newark, Ohio blogs are either on Blogger or there are sister websites for companies that are done with the Blogger system. Blogger.com has everything needed for a great blog and they rank very easily in the search engines. The problem is that the themes are limited and it's difficult to brand your blog with your own graphics. Artisteer allows you to design your own Blogger theme using their suggested graphics or your own photos and designs.
There is a free trial version. You will be amazed how you can create a template with the point and click interface. The professional result is nothing short of amazing. If you have ever tried coding a template or paid the price for a developer to create one, you'll fully appreciate the ease Artisteer provides at such a reasonable price.
Artisteer is a Windows program. Templates can be created for;
Microsoft Created Software Packages
CSS templates for other systems
Publishing a template with Blogger is very simple. Simply use Artisteer's built in upload function with your username/password and blog title, and Artisteer takes care of the rest. The other system require the normal procedure for uploading a theme.
The price is low enough that even the casual Blogger can afford to make their blog unique and professional.
Another use for Artisteer is creating a theme that is very close to what you desire. If there are any limitations with Artisteer, you save the designer time getting close to what you want. This saves you money, time, and frustration. Many designers can take your Artisteer file and tweak it to your specifications.
Give it a try! The trial version is free to explore unlimited design ideas. There are watermarks created by the trial version, but they are removed as soon as you purchase and license your copy.